5 Reasons Why You're Here on Earth  
is a guidebook to take along on your soul's journey in evolution. Beautifully illustrated with Marilyn's unique artwork, it's a companion to help you consciously advance your soul's growth.
This new book from Marilyn Segal will help you discover . . . 
… the true purpose of your life
… what life is gifting you each day
… how to deepen your soul's experience
.
The perfect book for giving, 5 Reasons Why You're Here on Earth includes . . . 
… daily exercises to enhance your soul's growth
… insights to support you as you step into your Life Purpose
… practices to connect you to the five reasons you are here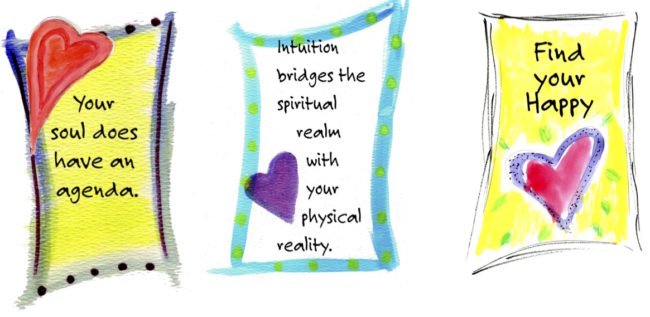 "It's like a friend who helps hold your heart
and gives you permission to heal and move on."
Your soul is eternal. You came to Earth because your soul has an agenda. 5 Reasons Why You're Here on Earth will help you discover more about who you are.
Your soul heals through your life lessons, challenges, and struggles. It expands and shifts its vibration. All of these events help your soul advance its evolution.
As you continue to heal, your soul finds its expression which ultimately leads you to your Life Purpose. You are part of God's bigger plan to help in the evolution of mankind.
 .
"You are God's diamond in the rough. You are here to be polished. Your soul is here to show you the way. I wrote and illustrated 5 Reasons Why You're Here on Earth to allow your brilliance to shine." Marilyn Segal
.