5 Reasons Why You're Here on Earth  
is a guidebook to take along on your soul's journey in evolution. Beautifully illustrated with Marilyn's unique artwork, it's a companion to help you consciously advance your soul's growth.
This new book from Marilyn Segal will help you discover . . . 
… the true purpose of your life
… what life is gifting you each day
… how to deepen your soul's experience
.
The perfect book for giving, 5 Reasons Why You're Here on Earth includes . . . 
… daily exercises to enhance your soul's growth
… insights to support you as you step into your Life Purpose
… practices to connect you to the five reasons you are here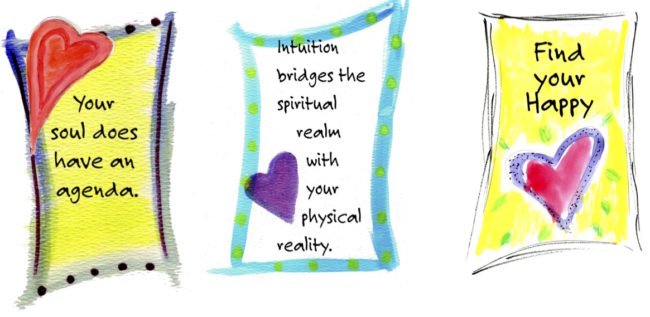 "It's like a friend who helps hold your heart
and gives you permission to heal and move on."
Your soul is eternal. You came to Earth because your soul has an agenda. 5 Reasons Why You're Here on Earth will help you discover more about who you are.
Your soul heals through your life lessons, challenges, and struggles. It expands and shifts its vibration. All of these events help your soul advance its evolution.
As you continue to heal, your soul finds its expression which ultimately leads you to your Life Purpose. You are part of God's bigger plan to help in the evolution of mankind.
 .
"You are God's diamond in the rough. You are here to be polished. Your soul is here to show you the way. I wrote and illustrated 5 Reasons Why You're Here on Earth to allow your brilliance to shine." Marilyn Segal
What Readers Say…
I want to thank you Marilyn for sharing your huge heart and helping me and others to receive your love and know it can be passed on ad Infinitum! I have known you for over thirty years and you continue to amaze . 
You have consistently been committed to your life purpose in helping others reach theirs . I wasn't ready to receive this some years ago and as I continue my own growth and journey I find your tools of great value . I realized today that your new book, 5 Reasons Why You're Here on Earth , is a timeless handbook for me . I have read and re-read it and find it relevant to so many parts of my life. 
Thank you for sharing your essence and being so generous with your love. 
Audrey S., Marietta, GA
Here is the book that will jump-start your life's next great adventure.  No matter where you are in your journey, the insights and exercises will certainly kick your life experience up a notch or two.I was first captivated by the array of colors and pictures that painted the work, front to back.  But, I quickly discovered the words, though simple, were some of the most conceptually sound directives I have encountered.
Now, some months after finishing Marilyn's book, 5 Reasons Why You're Here on Earth, I am giving you 5 reasons why you need to read this book right now:
First: the book gets right to the point.  There are no lengthy chapters about why other books have not helped, research data and so on, -straight to the deep end.
Second: the exercises are simple, easy to do and quickly produce that, "Oh, now I get it," experience.
Third: the guidance points are efficient, -this is something that is doable by 'real people,' not just the experts.
Fourth: the lessons learned are transportable from situation to situation within real life settings.
Fifth: the 5 Reasons are durable.  This book will be lasting and relevant for generations to come and not just a fad of the time.
So, read this book and you just might be surprised at the person you find within yourself along the way.
Bill R., Greenville, TN
Marilyn's book literally jumped out at me, so I bought the book and knew I had to meet her after reading it. Her Life Purpose Reading was amazingly accurate and I cannot believe how happy I have been after discovering my Life Purpose.
No longer do I wonder if I am on the right path or have chosen the right career. Life seems to make more sense and I am clear on why I am here. What a wonderful gift. Thank you Marilyn.
Diane B., Atlanta, GA
5 Reasons Why You're Here on Earth is a fabulous tool for your well-being tool bag. Marilyn Segal beautifully explains the many reasons why we chose to have this 'earthly' experience in a joy-filled way. Her positivity oozes through the pages of this gorgeously illustrated (all by Marilyn) insightful book.
I bought several as they are the perfect gift book for those needing to gain more insights to have a more positive life, and  to help anyone needing to get to the higher purpose and plan for your journey. Thank you Marilyn for sharing your light and wisdom!
Tammy Billups, Author of  Beyond the Fur, and co-author of F.A.I.T.H.- Finding Answers in the Heart
5 Reasons Why You're Here on Earth is a delightful, creative, and colorful book about the power and resilience of your Spirit as you awaken in these transformative times.
Marilyn's artistic expression is abundant in this book. I recommend you visit with her and support her work.
Blessings.
Marilyn D., Andrews, NC
.